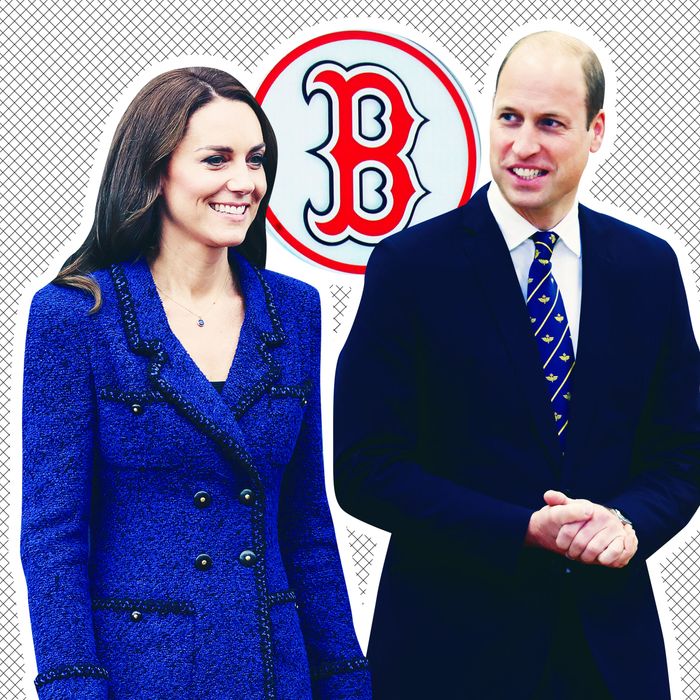 Beantown or bust.
Photo-Illustration: by The Cut; Photos: Getty Images
A big royal Beantown welcome to the Prince and Princess of Wales (and Pegging?), who arrived in Boston on Wednesday, ready to enjoy a "big night" out on Friday. That's People's phrasing, and while the official purpose of their visit is to hand out cash ($1.2 million in Earthshot Prize money) to five environmental entrepreneurs, their secret purpose is, allegedly, to rebuild goodwill with the former colonies. Why the monarchy feels it needs to do this doesn't make a whole lot of sense to me — what Americans think of the royals wouldn't seem to matter all that much, seeing as we already won that war in 1781, though I'm flattered that they still care — but then neither does the pronunciation of "Cholmondeley" (as in Marchioness of) as "Chumley." Anyway, the point is that Will and Kate are embarking on their first United States visit in eight years, and it is up to Boston to show them a good time. Meanwhile, it is up to me to attempt to answer your questions about this most auspicious of mini-tours. Let's go:
No offense to Beantown, but the selection of locations seems a little random when you remember that Washington, D.C., is the nation's capitol and New York City is its biggest city and Montecito is where Will and Kate's relatives reside. (More on that below.) But Prince William has his reasons. Per CBS:
Boston, birthplace of John F. Kennedy, was chosen to host the second annual prize ceremony because the late president's 1962 "moonshot" speech — setting the challenge for Americans to reach the moon by the end of the decade — inspired the prince and his partners to set a similar goal for finding solutions to climate change and other environmental problems by 2030.
Last year, the ceremony took place in London; this year, it's in the MGM Music Hall at Fenway.
According to the JFK Library, the Earthshot Prize "is the world's most prestigious and ambitious environmental prize." It honors five environmental innovators — who can be individuals, teams, governments, whatever — making strides in each of the Earthshots: Protect and restore nature; clean our air; revive our oceans; build a waste-free world; fix our climate. Prince William announced the 15 finalists in early November, and on Friday night, he will crown his winners. As you may remember, the World's Sexiest Bald Man 2021 loves his Earthshot Prize. He even learned to type in order to share its wonders with the masses. "This is his Super Bowl moment of the year," British ambassador to the U.S. Karen Pierce told the New York Times, "and he uses it to shine the light on some of the most impactful projects that are doing amazing things around the world to help save the planet."
Lately, the Windsors seem pretty concerned about what we in the United States think about them: Will we watch The Crown, for example, and turn on the newly installed King Charles? (Maybe, but the series has a big embarrassing crush on Charles, and then any bad opinions of him were more likely forged in the Diana years.) Will we read Prince Harry's forthcoming memoir and deepen our resentment to the degree that we rebel? (As stated, already did that.) Anyway, according to the Times (U.K. version), the idea behind this visit is to win American hearts and minds that may have been swayed by Harry and Meghan's big exit. After the Sussexes gave their bombshell 2021 interview to Oprah, one "exasperated senior courtier" told the paper the monarchy now had a "U.S. problem" to solve.
Enter hot youngish modern royals, Will and Kate, future king and queen. Their "tall task," Arianne J. Chernock — Boston University history professor and scholar of modern Britain — told the Times (New York version), is to show how in tune this new era of Windsors is with "core, weighty issues and maintain a sense of relevance, as well as a connection with their subjects and global population to justify their existence." Ambassador Pierce indicated that they are good choices for the job, because they are "very natural people" eager "to meet ordinary people who are working hard for their communities." This did not really come through on their recent royal tour of the Caribbean, which generated a slideshow of tone-deaf imagery, but let's see how it plays at Dunkin'.
In the end, it looks like a no. Prince Harry and his older brother have been on frosty terms for a few years now, their rift reportedly fueled by Harry's abrupt departure for the U.S. and the aforementioned Oprah interview (which surfaced damning claims about racism within the royal family, which William subsequently denied) and the generally high-profile nature of the more private life the Sussexes set out to lead. In October, tabloids speculated that Kate planned to "extend an olive branch to Meghan," per Us Weekly, and begin mending fences. Other unnamed sources then upped the ante, saying that Meghan had asked Kate to come on her Archetypes podcast as a guest, but sadly all of these royal spies seem misinformed. There is no warm reunion on the books for this visit to "the cradle of liberty," another name Boston has for itself. But Harry and Meghan are reportedly being honored at the Ripple of Hope Awards in New York City next week, so … there's that.
I haven't read anything about the Waleses meeting up with famed Bostonian Ben Affleck, nor Boston's Golden Boy Matt Damon, though the latter seems to show up in the darndest places. They are set to see some celebs, though: Billie Eilish, Ellie Goulding, Annie Lennox, and Chloe x Halle are performing at Friday's ceremony, while Rami Malek, Catherine O'Hara, and Shailene Woodley will present. Co-hosting the event, we have Daniel Dae Kim (of Lost and Hellboy) and Clara Amfo (of BBC Radio).
Per the New York Times, their visit to "the hub of the universe" kicked off with a welcome from Mayor Michelle Wu at Boston's city hall on Wednesday. Australian ambassador Caroline Kennedy was supposed to be there to receive them, but her plane was delayed in New York. They also took in a Celtics game at the Garden, to mixed reviews. Cheers, boos, and chants of "USA! USA!" greeted the couple on the jumbotron.
Anyway, Caroline Kennedy wound up meeting them at the game, the Celts won, and the royal couple appear to have enjoyed themselves. Prince William was even given a ball to play with, though he didn't appear to get the kick out of that one might expect.
On Thursday, they are making stops at Greentown Labs, an incubator for 200-plus environmentally focused tech start-ups — "so exciting for us," Julia Travaglini, its senior vice-president of marketing and communications, recently told WBZ-TV — and Roca, a nonprofit aimed at curbing violence and incarceration. On Friday, they are said to be meeting with President Joe Biden (also in Boston!), and at some point, Prince William is going to the John F. Kennedy Presidential Library and Museum. Princess Kate will head to the Center on the Developing Child at Harvard University. Then there is the provision of the big prize, which true freaks for the monarchy can watch on Wednesday, December 14, at 8 p.m. ET on PBS.
Well, obviously, we here at the Cut can't speak for all of Boston. Though the prince praised the "hardy Bostonians" for showing up during his inclement welcome remarks, some seem resistant to his charms. Indeed, according to Boston.com, some locals are already stewing over the bottlenecks the royal presence is expected to cause in Somerville and Chelsea, particularly around an outpost of Massachusetts' favorite grocery chain. "Bad day to go to Market Basket," someone griped on Reddit. "I bet the traffic will be terrible." On Twitter, another complained, "I have always disliked the royal family, but closing down street access to Market Basket MAKES THEIR REIGN INTOLERABLE!"
You know who can speak on behalf of Boston, though? British consul general to New England Peter Abbott, who told ABC affiliate WCVB-5 that "we" — presumably meaning he and his fellow Bostonians — "are thrilled that the Prince and Princess of Wales are going to be visiting Boston." I know, I know, consider the source, but a Bostonian who WCVB-5 stopped on the street said she was "very excited" about the visit. Here's hoping they don't burn all that goodwill by snubbing Dunkin'. The original location is in Quincy, Massachusetts. Just a little tip.
This post has been updated.