Video of Marjorie Taylor Greene Appearing to Kick Teen Viewed 500,000 Times
A Generation Z activist who was questioning Representative Marjorie Taylor Greene about gun legislation at Capitol Hill has accused the Georgia congresswoman of purposefully kicking her.
A video shared on Twitter by the 18-year-old activist, Marianna Pecora, shows the politician apparently kicking or tripping her as she was walking in front of Greene.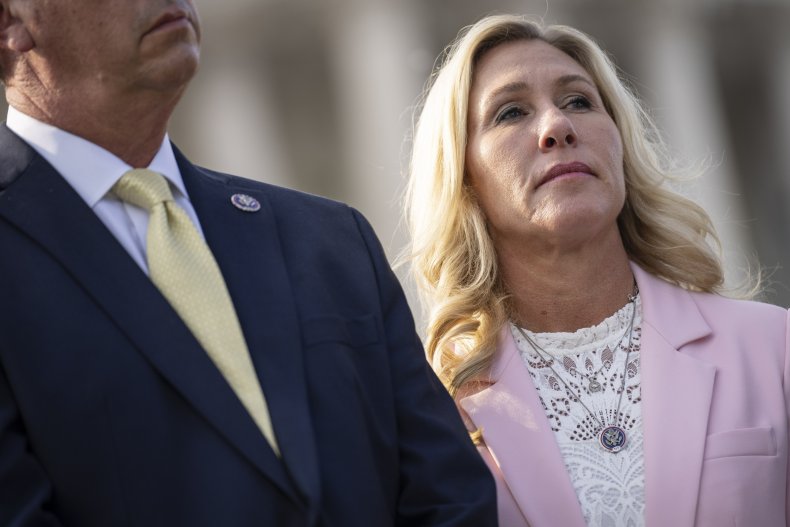 Though the footage shows only the top halves of Greene and Pecora's bodies and not their feet, the representative can be seen looking down and suddenly jerking forward towards the activist in what appears to be a kicking motion.
The clip has been watched by almost 500,000 people.

On her own Twitter account, Greene has shared another clip of the moment from a different perspective.
In the almost three-minute long video, Pecora can be seen approaching the Georgia representative about 60 seconds in.
The activist, who is the deputy communications director at Voters of Tomorrow, a Gen Z-led movement that engages, educates and represents youth in politics, asks about gun legislation and violence, filming Greene as she replies.
After the apparent kicking motion, Pecora immediately says, "Oh my god," and removes herself from Greene's path.
Greene tweeted the clip on Twitter and wrote: "These foolish cowards want the government to take away guns & the rights of parents to defend their children in schools.
"You have to be an idiot to think gun control will create a utopian society where criminals disarm themselves and obey the law. 'Gun-free' zones kill people." Greene didn't comment on the apparent kicking recorded in the video.
Newsweek has contacted Greene and Pecora for comment.
Voters of Tomorrow, the Gen Z group Pecora is part of, tweeted that Greene "physically and verbally assaults our young organizers."
"We won't let her get away with this," the group wrote on Twitter.
It's not the first time that Greene has been accused of harassing a teenage activist.
A 2019 video of Greene—then yet to be elected to Congress— harassing David Hogg, teenage gun-control activist, resurfaced online in 2021 and became viral.
In the video, Greene can be seen following the survivor of the Parkland school shooting in Florida as he walks toward the U.S. Capitol to meet legislators.
The representative can be seen repeating falsehoods about the shooting and Hogg's activism before finally calling him a "coward" for refusing to engage with her.