Ten Ukrainian civilians were killed and several others injured Wednesday in a "brutal, absolutely deliberate" attack from the Russian military, Ukrainian President Volodymyr Zelensky said.
In his daily address, Zelensky said Russian troops carried out the strike in the town of Kurakhove in the eastern Donetsk region. The attack was described as an "artillery barrage" by The New York Times, which confirmed the report after verifying a video of the aftermath that was posted on Telegram by Donetsk Governor Pavlo Kyrylenko.
According to Zelensky, Russia aimed "precisely at civilians. At ordinary people. At the market, elevator, gas station, bus station, residential building."
"Today was a long and hard day," he said at the opening of his speech.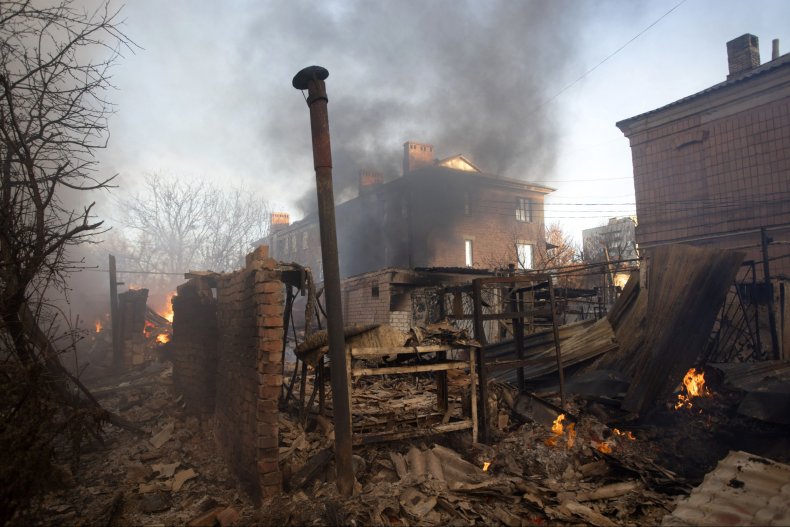 Zelensky also addressed the four police officers who died in the Kherson region on Wednesday while attempting to stabilize Russian mines. According to a Facebook post from Ukrainian National Police Chief Ihor Klymenko, the casualties included the chief of police for the Cherkasy region, Mikhail Kuratchenko. Four other officers were injured, and Klymenko wrote they're "fighting for their lives."
"My condolences to relatives and friends," Zelensky added. "Eternal memory to all victims of Russian terror."
Since Russia invaded Ukraine on February 24, 6,490 Ukrainian civilians have been killed, reported the United Nations (U.N.), and nearly 10,000 injured. The U.N.'s report only included totals through November 6.
Ukrainian officials also reported last week that up to 13,000 soldiers had been killed since the start of the Russia-Ukraine war. The European country's losses are predicted to be much lower than Russia's, however, with some reports predicting the Kremlin's military losing up to 100,000 soldiers in the past nine months.
Despite the death toll, Russian President Vladimir Putin said during a meeting with his Human Rights Council on Wednesday that his war waged against Ukraine could take a long time. Putin also reportedly told officials that the threat of nuclear war is "growing," as he sees Russia's arsenal of nukes as key to conflict deterrence with Ukraine.
Russia's army has also continued to target Ukrainian civilian infrastructure, triggering widespread energy blackouts during some of the country's coldest months. Zelensky said in his address Wednesday that officials are "constantly increasing" Ukraine's energy supply every day, but added "it is now impossible to restore 100 percent of the energy system as it was before the beginning of the Russian energy terror."
"We need time," he said. "That is why shutdown schedules remain in most cities and districts."
Newsweek has contacted the Russian Defense Ministry for comment.