Russian strikes targeting Ukraine's infrastructure has left the country suffering from temporary mass power outages and water shortages, as civilians take the brunt of Moscow's most recent attacks.
Russia has denied intentionally targeting civilians in Ukraine, insisting that it is only targeting military objects.
In an update on its official Telegram channel on November 18, Russia's Ministry of Defense claimed to have targeted military command and control facilities and "the fuel and energy infrastructure associated with them."
But the attacks—while they put Ukrainians in a very difficult situation, as the country approaches a freezing cold winter, depriving them of power, water and heat—are unlikely to affect Kyiv's capability of using some of its most effective weapons, namely the U.S.-made HIMARS.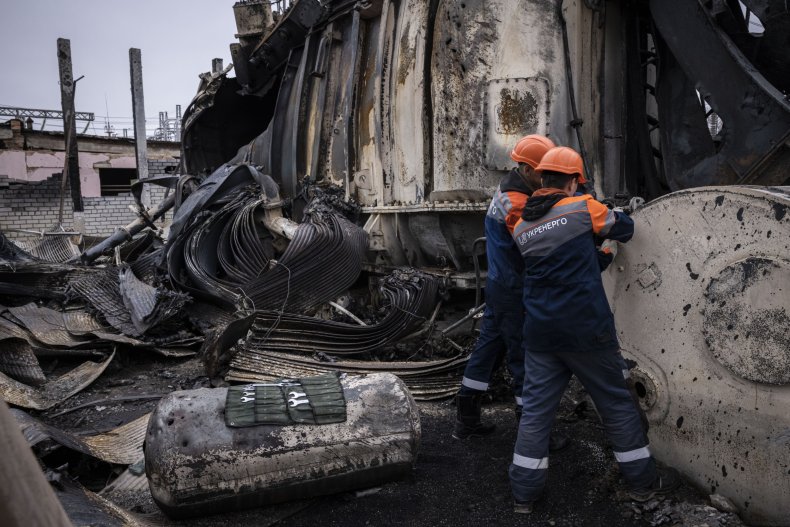 Ukraine relies on timely intelligence on potential targets to make the best use of HIMARS, and this has likely not been impacted by the recent power outages along the Ukrainian communication lines.
"The military will have its own command, control and communications—it is called C3—networks," said Frank Ledwidge, a British former military officer and author.
"They are airgapped from civilian networks and will have their own access to power, either through the grid or via generators."
In addition to that, Ledwidge said "most of their transport system is still working, including the electric railways," which allows Kyiv to still use its military equipment.
There is little accurate and verifiable information as to the extent of the damage to Ukraine's military infrastructure, or to what extent it has been compromised, with this information not being shared by the country's forces or ministry of defense.
"We don't know anything about Ukrainian losses or strikes that would damage the Ukrainian infrastructure insofar as it's immediately noticed by millions of people," said Ledwidge.
"We don't know what bridges have been taken down, what railways and military railways have been struck, what containments have been struck. […] We just don't know the effect that this Russian campaign is having. We only know that Kyiv and many other cities are getting blackouts, but we can surely assume that's not all.
"I am almost sure that many of the military targets and military industrial targets have been struck—they must have been, as [Russia] has a very comprehensive intelligence collection infrastructure."
Newsweek has contacted Ukraine's ministry of defense for comment.
However, Ledwidge thinks Russian strikes are more insidious than they appear.
"I think it is about a lot more than impacting civilians' morale. I don't think it will be decisive, but it's insidiously effective in degrading Ukraine's effort to regenerate. They're doing everything they can to block any potential intelligence gain coming from NATO."
How Has Ukraine Used the U.S.-Made HIMARS Until Now?
Since the beginning of the war, Ukraine has received 20 High Mobility Artillery Rocket Systems—better known as HIMARS—from the U.S., sixteen of which were delivered in mid-summer, and an additional four provided in October.
The HIMARS came together with a large inventory of satellite-guided rockets with a range of almost 50 miles.
HIMARS can be easily and quickly moved from their position after shooting to avoid the enemy's artillery fire.
They have been hailed as the game changer for Ukraine's forces, allowing them to hit key Russian targets beyond the battlefront—including ammunition depots, command posts, bridge and railways—and liberate the occupied territories of Kharkiv and Kherson.
They're precious weapons for Kyiv, that have "quite a small number" of HIMARS "considering the front is 800 to 1,000 kilometers (497 to 621 miles) long and that this is a very artillery-centered war, and HIMARS is a form of artillery," said Ledwidge.
Ukraine has long been asking for more HIMARS—together with longer-range missiles to hit Russia's targets beyond the frontline—but at the moment its capacity to use this key weapon depends on the limited amount it has at its disposal.