South Dakota Governor Kristi Noem said she would support new GOP leadership over Republican National Committee (RNC) Chairwoman Ronna McDaniel's reelection as conservatives assess their underwhelming performance in this year's midterms.
Republicans, despite President Joe Biden's floundering approval rating and economic woes, failed to retake control of the Senate and only won a slim majority in the House of Representatives. As the midterm dust has settled, some have blamed former President Donald Trump's endorsed candidates while others are calling for new RNC leadership.
Noem, during an appearance on Fox News' Sunday Morning Futures, was asked if she supports McDaniel's RNC reelection bid, but questioned if Republicans are successfully messaging their policies.
"We need to win. That's just the fact. Our kids' future depends on it," the governor said. "We really all have a responsibility to message what Republican policies bring to this country. I don't know if a party can continue to lose like we have and keep their jobs."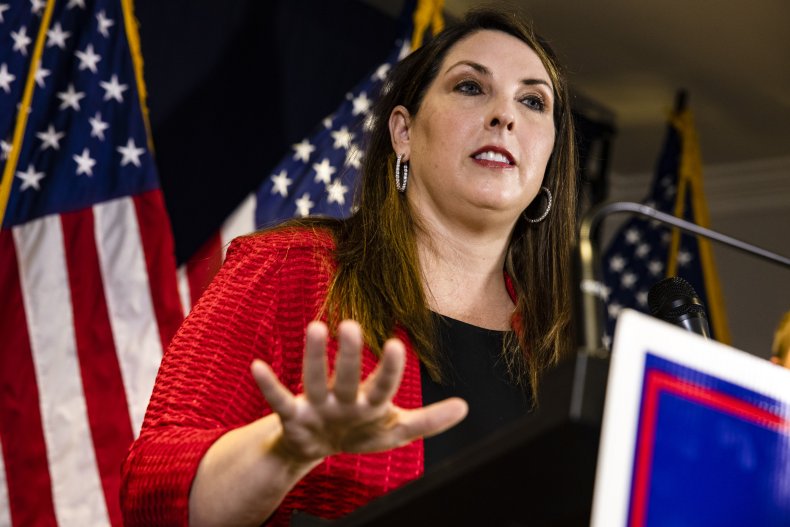 Noem's remarks are the latest indication that some Republicans could back an alternative challenger to lead the national party as other conservatives call for a change. Several conservative influencers have recently spoken out against McDaniel.
John Cardillo, a Republican pundit, said on Saturday on Twitter that it is "absolutely clear" that McDaniel "has to go."
"Ronna will never spend a dollar on ballot harvesting or real effective ground game to beat the left," Cardillo tweeted. "She wants to exist in minority opposition so she can raise more money, then funnel that to her consultant buddies."
Meanwhile, Scott Presler, a conservative social media influencer, conducted a Twitter poll about whether or not McDaniel should remain the RNC chair. Only about 5.4 percent of more than 19,000 voters said they would support her reelection bid.
Last Wednesday, Roger Stone, a conservative political consultant, wrote in a Truth Social post: "No Republican National chair has ever remained in office after LOSING a presidential election in the history of the Republican party. Ronna ROMNEY McDaniel is the first. We are rewarding defeat!"
Zeldin, Lindell Named as Potential Challengers
Mike Lindell, the CEO of MyPillow who has been one the most vocal proponents of Trump's unfounded claims of widespread voter fraud during the 2020 presidential election, said last week he is weighing a run against McDaniel.
"One of the things I will tell you, you know, [we] will never ever stop to get rid of these machines and make this the best elections in world history in our country," he said during Lindell TV last Wednesday.
He has already received some support from prominent conservatives including Stone. During an appearance on Lindell TV Sunday, Stone said he would support Lindell's candidacy "if he runs" and criticized the RNC for not having a greater presence in Georgia's Senate runoff.
"I think the great value of Mike's potential candidacy is that it shows the spotlight on the issue of election integrity," he said, adding without evidence that he believes the RNC election would be rigged.
Representative Adam Kinzinger, an Illinois Republican and Trump critic, mocked the idea of Lindell winning the election.
"This would actually be great. Ronna ROMNEY McDaniel fed the alligator and now it grew out of the bathtub," he tweeted Saturday.
Representative Lee Zeldin of New York has also said he is mulling a challenge against McDaniel. Zeldin rose to national prominence during his gubernatorial bid against Governor Kathy Hochul, a Democrat. He ultimately lost the race by less than 6 points, which was seen as a strong showing in the heavily-Democratic state.
Newsweek reached out to McDaniel's spokesperson for comment.