Republicans, who already had all but a handful of seats in the state Senate, now have another.
Senator Glenn Jeffries, who had been a Democrat, has registered this week as a Republican.
"I have the greatest respect for the many friends and supporters I have been blessed with during my time in public office," Jeffries said in his announcement today. "I hope to continue and strengthen those relationships going forward."
He added, "Our politics have gotten so personal and difficult. I want to make sure that I serve constituents and our state in a respectful, thoughtful way that leads to a better life for all West Virginians."
Why did @GlennJeffriesWV make the switch from Democrat to Republican? He provides his reasoning with @HoppyKercheval. WATCH: https://t.co/yCFQ3nEhk6 pic.twitter.com/fSJzq10c21

— MetroNews (@WVMetroNews) December 1, 2022
The Putnam County Republican Executive Committee first announced his party switch, saying he will be a good fit.
"I warmly welcome Senator Glenn Jeffries into the West Virginia Republican Party," stated Tony Hodge, the Putnam County Republican Party Chairman and the Co-Chairman of the West Virginia Republican Party.
"Senator Jeffries has proven himself to be a very hard worker for Putnam County. His efforts to improve infrastructure such as water and sewer services as well as road maintenance have been exemplary."
Hodge described Jeffries as placing policy over party.
"Glenn described himself to me as a 'conservative,' and we agreed that his policy efforts in the State Senate would be elevated if he joined the majority Republican caucus. Glenn also expressed to me his discomfort with the leftward direction of the Democratic Party and that he no longer identifies with them."
Republicans dominated West Virginia elections earlier this month, giving the GOP a 30-seat majority in the 34-member Senate. Now it's 31 of 34.
With Jeffries moving to the Republican caucus, that leaves Democrats with senators Mike Woelfel of Cabell County, Robert Plymale of Wayne County and Mike Caputo of Marion County, a threesome that could caucus in a supply closet.
The most recent election knocked out Democrats like Senate Minority Leader Stephen Baldwin; Richard Lindsay, who was Jeffries' counterpart in the district; and Ron Stollings, a longtime senator from Boone County.
Meanwhile, several Republican candidates who had been Democrats in the past were winners. Those include Mike Oliverio, a former senator from Fairmont who will serve again with the GOP; Jason Barrett of Martinsburg who was a Democratic delegate until a switch last year; and Mark Hunt of Charleston, a former Democratic delegate who now joins the Senate as a Republican.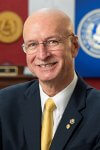 "With Senator Jeffries as a member of our caucus, we stand at 31 members strong. Glenn has been a leader in the minority caucus with his work in economic development and infrastructure," Senate President Craig Blair, R-Berkeley, said this morning.
"As a successful small business owner, he knows what meeting a payroll, hard work, responsibility, and teamwork mean. I know he has been – and will continue to be – an incredibly valuable member of the West Virginia Senate."
The current Republican domination represents a major flip from the years when Democrats controlled the state Senate with their own huge majority.
Democrats had control of the chamber through 2013 with a 24 to 10 majority. In 2014, Republicans gained control with a narrow 18-16 majority — and they've continued to build on that.
During the last session, the Republican majority was 23 Republicans and 11 Democrats.
In 1992, Democrats had a 32-2 advantage in the Senate. Some years before that, Donna Boley of Pleasants County was the only Republican in the Senate.
Today, West Virginia Democrats blasted Jeffries' switch. The state Democratic Party's statement made reference to the recent controversy over former President Trump's private dinner with rapper Kanye West, who has made a series of antisemitic statements, and Nick Fuentes, a white nationalist. 
"For Senator Jeffries to claim he doesn't like the direction of the Democratic Party, barely a week after his new party's de facto leader had dinner with a Holocaust denying white supremacist, is like being called ugly by a frog," stated West Virginia Democratic Party chairman, Mike Pushkin, who also serves in the House of Delegates.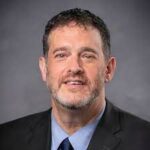 Pushkin took note of Jeffries' high scores as a senator from Climate Cabinet Action, a national group dedicated to supporting the best climate and environmental justice champions in statehouses across the country. "Hopefully, Glenn will be permitted to continue to be an environmental justice champion in his new party," Pushkin stated.
Jeffries first won office representing Senate District 8 in 2016, defeating then-incumbent Republican Chris Walters, and then was re-elected in 2020. So if he chooses to run again he would be on the ballot next in 2024.
Jeffries is a contractor who runs Cornerstone Interiors in Red House, Putnam County. He was instrumental behind the scenes in encouraging a Berkshire Hathaway project in neighboring Jackson County, kicking off the relationship with a letter to company executives.
Before starting Cornerstone in 1997, he worked as a union carpenter for fifteen years. He maintains his membership in the Carpenters union.