Key events
Warnock: 'The people have spoken'
"It is my honor to utter the four most powerful words spoken in a democracy: the people have spoken," Warnock told his jubilant supporters.
The senator thanked supporters and family.
"Voting is faith put into action," he said. "And Georgia, you have been praying with your lips and your legs."
Herschel Walker spoke to supporters at his election night event at the College Football Hall of Fame, accepting defeat.
"I'm never going to stop fighting for Georgia," he said, thanking his supporters, donors and team. "We put up one heck of a fight."
After Walker endorsed Donald Trump's conspiracy theories about the 2020 elections, it was unclear if he would accept the results. In his brief speech, Walker did not say whether he had called his opponent to concede.
"I don't want any of you to stop believing in America. I want you to believe in America and continue to believe in the constitution and believe in our elected officials and most of all, continue to pray for them," Walker said.
Analysis: Warnock's win in Georgia is a bad omen for Trump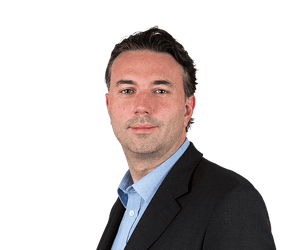 David Smith
Sanity strikes again.
Raphael Warnock's victory over Herschel Walker in the Georgia Senate runoff caps an election season in which the normal, the sensible and the fans of fact regained their voice and gave hope that, after long years in which American democracy was feared to be at death's door, the patient is rallying.
In simple mathematics, the win gives Democrats 51 seats to Republicans' 49 in the Senate, speeding up confirmation of Joe Biden's administrative and judicial nominees and starving the conservative West Virginia Democrat Joe Manchin of some of the oxygen he enjoys as the swing vote.
But more philosophically, it serves as another corrective to the notion that all America suddenly went mad on 8 November 2016, the day Donald Trump was elected instead of Hillary Clinton. Looking back, it's pertinent to recall that Trump lost the popular vote by nearly three million and benefited from a unique cocktail of circumstances that included entrenched misogyny and running against the ultimate establishment politician.
Read more:
Warnock wins Georgia runoff
Democrat Raphael Warnock has secured victory in Georgia's senate runoff, the AP projects.
Warnock, the incumbent senator, has won his first full term and bolstered his party's lead in the chamber.
Joe Biden is feeling optimistic.
"We're going to win. We're going to win Georgia," he told reporters at Joint Base Andrews.
With 92% of votes tallied, Warnock is maintaining a narrow lead.
With 87% of the votes tabulated so far, the race remains close.
But much of the remaining vote is in the Atlanta area, which leans Democratic – and will likely be promising for Warnock. At the election night watch party fo the Democrat, director Spike Lee spoke too supporters, as CNN on big screens showed Warnock with a lead.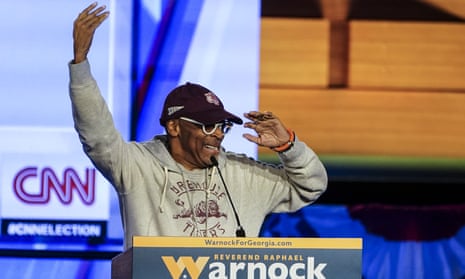 Meanwhile,Walker's watch party at the College Football Hall of Fame appeared to be more subdued.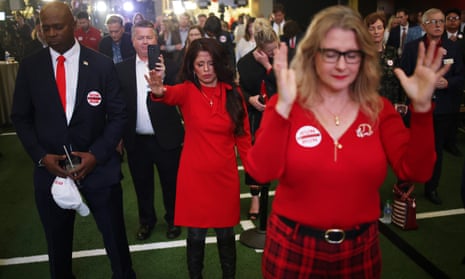 Another column on tonight's race for those who want to read further as they watch the results crawl in. Robert Reich, former US labor secretary, on how the biggest loser if Raphael Warnock wins tonight won't be his Republican rival, Herschel Walker…
If Raphael Warnock wins today's Senate runoff in Georgia, Senate Democrats will gain a 51-49 majority – providing them with some insurance if Arizona voters boot out Kyrsten Sinema in 2024, while at the same time reducing the power of the West Virginia Democrat Joe Manchin to control the Democrat's agenda.
In other words: a win-win.
But it could prove an even bigger Democratic win. That's because the biggest loser in a Warnock victory won't be his Republican rival, Herschel Walker.
It will be Donald Trump.
Walker's entire candidacy was a Trump creation – not unlike Trump University, Trump Airline, Trump Vodka and Trump Steaks.
And like those businesses, the Walker candidacy appears to have sunk under a miasma of ineptitude, lies and embarrassing allegations – in this case, of domestic abuse, semi-secret children and payments for abortions for multiple women.
Full column: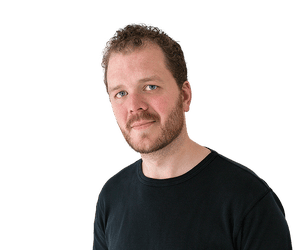 Martin Pengelly
Gabe Sterling, the Georgia elections official and aide to the secretary of state who became a national name when he and his boss, Brad Raffensperger, stood up to Donald Trump in his attempt to overturn the presidential election in 2020, has been telling CNN what he thinks the results reported so far say.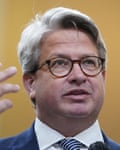 He says: "We don't know what they say. We have a lot of rural counties that have uploaded nothing yet."
He also reports some drama:
We had one car carrying one of the vote cards damaged, jaws of life out there, both poll workers are OK, they've turned down medical attention and going to the hospital but they were able to retrieve that vote card and get it to county headquarters. I mean, that's the kind of stuff that happens on election day because you have thousands of people out there doing their jobs."
About turnout, Sterling reports that it is very high for a midterms runoff.
My nightmare was 1.4 million of turnout today and guess what guys, it was gonna be 1.4 million. It's a tight race, it's going to be a while … we're looking at probably 3.3 million [turnout overall]. These are record numbers, guys, especially for a runoff election. So I'm just excited that so many voters get to express their voice."
In bad news for tired editors in empty newsrooms, Sterling also said: "I just tweeted out, it's gonna be a long night and guess what, it's gonna be a long night."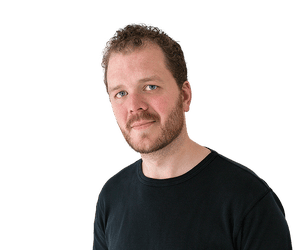 Martin Pengelly
Some further reading as the lead changes hands again, Walker nudging a fraction of a point ahead.
Steve Phillips – founder of Democracy in Color and author of Brown is the New White: How the Demographic Revolution Has Created a New American Majority – on why white evangelicals in Georgia have shown their true colors in voting for Herschel Walker, a Republican mired in unchristian scandal …
Why do we have such low expectations for white voters? The midterm elections brought into stark relief just how many white voters are willing to make a mockery of showing any pretense of concern for democracy, good governance or even the barest qualifications for our country's highest offices. As unfortunate as that behavior is, what's even more dangerous for the future of the country is how resigned the rest of the country has become to the anti-democratic and intellectually unjustifiable voting patterns of much of white America.
Full read: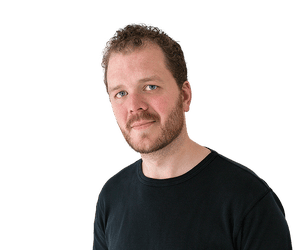 Martin Pengelly
Not long ago, Herschel Walker took a slim lead, 50.4% to 49.6% (Georgia state results page here) over Raphael Warnock, but a lot of the experts and reporters I'm following here at Guardian central in New York are reporting pessimistic noises from the Republican's campaign.
Here's Dave Wasserman, US House editor of the nonpartisan Cook Political Report:
A pattern emerging: Walker is hitting/getting close to the numbers he needs in the reddest, most rural counties. But he's falling a good bit short of the numbers he needs in small/midsized cities.
There is, of course, a very long way to go and it doesn't really matter who leads until enough votes have been counted to call the result.
And as if to prove it, as I typed all this … Warnock took back the lead. As the great Kurt Vonnegut wrote, repeatedly: So it goes.
Georgia elections official Gabriel Sterling said that he expects 3.3 million voters to have cast ballots in this runoff election.
Officials expect the turnout to exceed that of the runoffs in 2018 and 2016. In 2020, when Georgia's runoff decided the leadership of the US Senate, there was a record high turnout of 3.9 million voters.
With 64% of votes in so far, the race has narrowed to a razor-thin margin.
Hershel Walker is closing out a long campaign characterized by scandal. Walker has touted non-existent careers with the FBI and military, and falsely claimed that he graduated from the University of Georgia.
Multiple women have accused him of abuse. In just the past week, an ex-girlfriend of Walker said he was violent toward her, grabbing her throat and throwing a punch at her when she found him with another woman at his apartment in Dallas. Walker's ex-wife, Cindy Grossman, has also said that Walker abused her and threatened to shoot and kill her. Two women also came forward to say that Walker, despite posturing against abortion rights, pressured them to abort pregnancies.
Read more:
With just about 45% of the votes tallied so far, Warnock is in the lead. But Republicans have some reason to feel encouraged.
Early votes favored Democrats, as expected. On election day, at least 1.3 million people voted, according to the secretary of state's office. Republicans needed high turnout today to stay in the game – and they seem to have gotten their wish.
Of course, it will still be a while until we have a clearer idea of how the votes ultimately fall.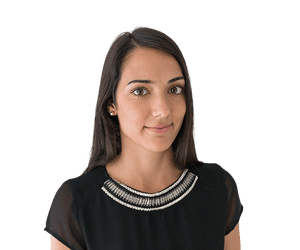 Lauren Gambino
Gaining one more seat in the Senate would have far-reaching implications for Democrats, both politically and procedurally. As Senate majority leader Chuck Schumer wrote in an email to supporters: "Having 50 seats is great, but having 51 is even better."
With a 51st seat, Schumer could assume greater control over the upper chamber, making governing easier and more efficient than it is in the evenly split Senate.
In early 2021, victories by Warnock and Jon Ossoff in the state's twin runoffs delivered Democrats control of a 50-50 Senate, with Harris as the tie-breaking vote. Schumer then spent weeks negotiating a power-sharing agreement with the Republican leader, Mitch McConnell, which delayed the confirmations of newly inaugurated president Joe Biden's nominees.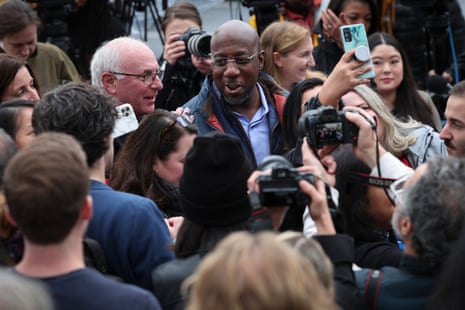 The even divide extended to the committees, where members frequently deadlocked over nominees or legislation, requiring additional maneuvering to advance them to the floor. Should Warnock win, Democrats would hold majorities on committees and could use that power to move nominations or other legislative business on a party-line vote.
"We would go back to what we usually see in the Senate," said Molly Reynolds, a senior fellow in governance studies at the Brookings Institution, a thinktank in Washington. "If all of the Democrats on the committee wanted something to happen, they would be able to just vote for it and they wouldn't have to jump through extra hoops."
Reynolds said a Warnock victory would also give the party "more breathing room". With just 50 senators, any sudden vacancy or absence risks leaving Democrats without a functioning majority, as happened in January, when Senator Ben Ray Luján of New Mexico suffered a stroke before the supreme court nomination of Ketanji Brown Jackson. Luján made a full recovery and returned to the Senate in time to confirm Jackson to the court, but it underscored the precarious nature of Democrats' power.
An additional vote would also give the party wiggle room to override the objections of a single senator. For two years, the Democrats' agenda seemed to hinge on the support of one man: Joe Manchin, a centrist from conservative West Virginia. In negotiations, Manchin used the narrow margin as leverage to extract concessions on major legislation and forced Democrats to significantly scale back the president's signature health and climate package.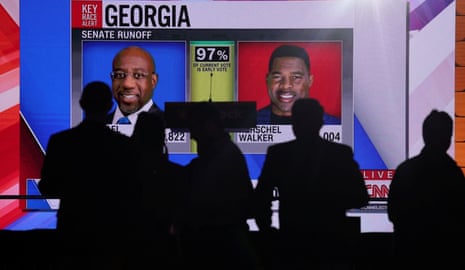 In 2024, Manchin faces an uphill battle to hold on to his seat in a state Donald Trump won by a wide margin in 2016, which could make the senator even more determined to showcase his political independence.
Likely to remain in place, even with a 51st seat, is the Senate filibuster. Despite mounting calls from across the party to weaken the rule to protect voting rights and codify Roe v Wade, Democrats do not have the support of 50 senators to do so. Manchin and his Democratic colleague Kyrsten Sinema of Arizona oppose changes to the filibuster, which imposes a 60-vote threshold to pass most legislation. Democrats would have needed to gain at least two additional senators to overcome their resistance, and even then such legislation would be unlikely to advance in a Republican-controlled House.
Without a majority in the House, Democrats' streak of legislating will all but certainly grind to a halt. In the Senate, the Democrats' priority will be to confirm federal judges and executive branch appointees nominated by the president. Here again having a one-seat cushion would help Democrats bypass a degree of obstinancy within their ranks, in contrast to earlier this year when one of Biden's nominees to the Federal Reserve was forced to withdraw her candidacy after Manchin announced his opposition.
Read more:
Carlisa N Johnson in Atlanta and David Smith in Washington:
Ahead of election day, opinion polls suggest a narrow lead for incumbent Democratic senator Raphael Warnock over his Republican challenger, former American football star Herschel Walker.
Victory for Warnock would give Democrats 51 seats in the 100-seat Senate, a stronger hand than they currently hold in an evenly split chamber where Vice-President Kamala Harris casts the tie-breaking vote.
It is the second time in two years that a Senate race has gone to a runoff in Georgia because neither candidate secured a majority on election day. But the Peach State is showing little sign of election fatigue, with officials reporting record early voting turnout.
National and state Democrats also came out to support Warnock. Last week saw celebrity-led events including a concert by the Dave Matthews Band, canvassing with actors Tessa Thompson and America Ferrera, and a rally targeting Georgia's Asian American community featuring Jeannie Mai Jenkins and Daniel Dae Kim.
Read more: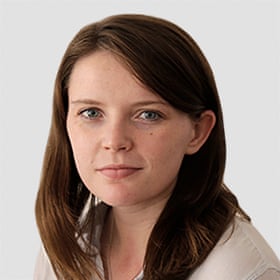 Joan E Greve
The result of the runoff will not determine control of the Senate, as Democrats have already won enough seats to maintain their hold for the next two years.
But a Raphael Warnock victory would give Democrats a crucial 51st seat, allowing them to abandon their current power-sharing agreement with Republicans in the evenly divided chamber. A 51-seat majority would also provide Democrats with some wriggle room when it comes to close committee votes and nomination fights.
"This race is about who is going to represent the 11 million people of Georgia for the next six years," Warnock told MSNBC on Monday.
"Given my opponent, this race is not even about Republican versus Democrat, red versus blue, right versus left. It's right versus wrong, and I think people see that."
Polls are now closing in Georgia.
More than a million ballots were cast today, according to the secretary of state's office, suggesting high runoff turnouts.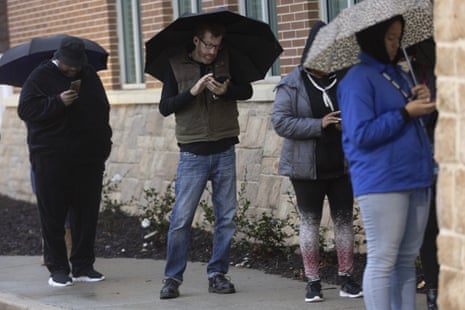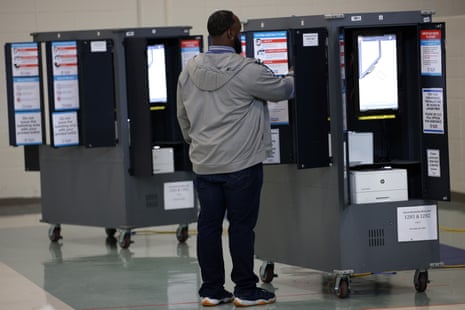 The last Georgia runoff that first put Warnock in the Senate saw the highest runoff turnout in the state's history.
Winner of Georgia runoff will make history
From Guardian staff and agencies:
The winner of Tuesday's midterm election runoff for one of Georgia's two seats in the US Senate will make history.
Raphael Warnock became the first Black senator from Georgia when he won the 2020 election runoff that helped tip the upper chamber into Democratic control, boosting the party in its capture of the House, the Senate and the White House.
Now, as Georgia heads for the last day of voting in the latest runoff, Warnock hopes to add another distinction: winning a full six-year term in the Senate.
Standing in the way is another Black man, Republican challenger Herschel Walker. And whoever wins will be the first Black person elected from Georgia to a full Senate term.
Black voters there say the choice is stark: Warnock, the senior minister of Martin Luther King's Atlanta church, echoes traditional liberal notions of the Black experience; and Walker, a University of Georgia football icon, speaks the language of white cultural conservatism and mocks Warnock's interpretations of King, among other matters.
"Republicans seem to have thought they could put up Herschel Walker and confuse Black folks," said Bryce Berry, president of Georgia's Young Democrats chapter and a senior at Morehouse College, a historically Black campus from which both King and Warnock graduated.
Standing beneath a campus statue of King, Berry continued: "We are not confused."
Other Black voters raised questions about Walker's past – his false claims about his business and professional accomplishments, violence against his ex-wife, reports alleging that he paid for women to have abortions while now campaigning to ban the procedure – and the way he stumbles over some public policy discussions as a candidate.
Some said they believe GOP leaders are taking advantage of Walker's fame as a football star.
"How can you let yourself be used that way as a Black person?" asked Angela Heard, a state employee from Jonesboro. "I think you should be better in touch with your people instead of being a crony for someone."
Even some Black conservatives who back Walker lament his candidacy as a missed opportunity to expand Republicans' reach to a key part of the electorate that remains overwhelmingly Democratic.
"I don't think Herschel Walker has enough relatable life experience to the average Black American for them to identify with him," said Avion Abreu, a 34-year-old realtor who lives in Marietta and has supported Walker since the GOP primary campaign.
Warnock narrowly led Walker in the November general election, but neither crossed the 50% threshold, sending the race to a runoff on 6 December.
Read more:
Georgia voters decide: Warnock or Walker?
In about an hour, the polls will close in Georgia, and counties could start reporting totals soon after. Democrats have already secured a razor-thin majority in the US Senate, but tonight's runoff race between Democratic incumbent Raphael Warnock and Trump-endorsed Republican Hershel Walker is being closely watched across the US.
A win for Warnock means the Democrats will be better able to leverage their majority to balance against a Republican-led House of Representatives. It would also solidify Georgia's status as a political battleground state.
Regardless of outcome, the race could prove to be a rebuke of Donald Trump. Walker's poor performance in November was seen as a failure for Trump. If he wins this race, it could be chalked up to Trump's absence from the campaign trail.
Follow along for live updates as the results roll in.