The first thing you realize when you enter the classroom filled with eager 5th graders is that, though the school is in the heart of New Orleans, no one is speaking English.
"Quel est cet objet?" their teacher, Fabien Jeantet, asks as he drills them on vocabulary: "What is this object?"
They respond with the words – "une tasse," for example, when he holds up a cup.
The Lycee Francais de la Nouvelle-Orleans, a French immersion school in New Orleans, is part of a flourishing of French language education in Louisiana in recent years, helped along by support from France's government.
French President Emmanuel Macron's visit to New Orleans on Friday will draw further attention to the trend, as well as highlight Louisiana's rich linguistic history. That includes the various French dialects still spoken in some of the state's Cajun, Creole and Indigenous communities, from the banks of Bayou Lafourche to the Cajun and zydeco dance halls of Acadiana.
Language will be a focus for Macron during his packed schedule on Friday. He intends to announce the creation of a fund to support French language education, and this former French colony will provide him with a unique platform to do so.
Given Macron's interest in promoting "francophonie," or the global community of French speakers, Louisiana was undoubtedly a draw as he planned this week's state visit to the U.S., the first under President Joe Biden's administration. He'll arrive in New Orleans the day after his state dinner at the White House, where Kenner native Jon Batiste will perform in another nod to Louisiana.
Barry Ancelet, an emeritus professor at the University of Louisiana at Lafayette who has spent his career studying, teaching and promoting the state's Cajun and Creole cultures, said it's essential that efforts include both the language's international standard and its local varieties.
"It's critically important to integrate Louisiana French in this process," said Ancelet. "Because it's not just French that's important. It's this French. It's the French that produced the stories, and the songs, and the memories and the history that we all live with and enjoy."
From ban to boom
It's been quite a turnaround, considering the many years when speaking French was discouraged in Louisiana. It's difficult to accurately gauge how many French speakers are in the state, but estimates are in the 200,000 range. That's a little less than 5% of the population.
It's a far cry from, according to some estimates, the roughly one million that spoke it as recently as 1970, said Scott Tilton, executive director and co-founder of the New Orleans-based Nous Foundation, a cultural institute whose work includes promoting Louisiana French and Creole. Tilton points out that from 1921 to 1974, the state constitution banned French as the primary language taught in schools.
But he, like others, said of recent revival efforts: "It's exciting to see how much is going on, to really see all of this re-emerge."
The resurgence has involved the work of many, particularly the longtime efforts of people like Ancelet and leaders of the state's Council for the Development of French in Louisiana, known as CODOFIL. But younger activists such as Tilton, 30, and his organization's co-founder, 32-year-old Rudy Bazenet, or even the newer Cajun bands singing in French dialects, have played a pivotal role.
A milestone was reached in 2018, New Orleans' tricentennial. That's when Louisiana joined the international organization of French-speaking governments, the Organisation Internationale de la Francophonie, as an observer. Tilton and CODOFIL drove the push to make it happen.
Lycee Francais in New Orleans is part of an expanding number of French immersion programs. Started in 2011, the school now includes more than 1,000 students, and this year will see its first high-school graduates.
It is a free public charter school drawing students from New Orleans and beyond, spanning pre-K through high school. It's spread across three campuses and its curriculum is recognized by the French education system – all of which makes it unique to the country, school officials say.
"What really sets us apart is we're accredited, which really means we're a program through the French government," said Gina Bianchi, principal for grades 3-7.
Families decide to enroll their children for a range of reasons, including the advantage it may provide when applying for colleges or a willingness to reconnect with a French heritage. All instruction is in French apart from students' English language arts class.
"My mother got me to come here because she thought that it would give me a better education," Tiana Davis, an 11-year-old from New Orleans, said after her class with Jeantet ended on Tuesday. "And it'll get you a better job in life."
Teachers come from French-speaking countries, mainly France, said Magalie Truchot, academic coordinator for upper elementary grades at the school. For them, the experience is enriching, she said.
They experience another culture and ways of learning, and return to their classrooms back home with a wider perspective. They tend to stay for stints of between three to five years, said Truchot, herself a French native.
'Reconsider the value'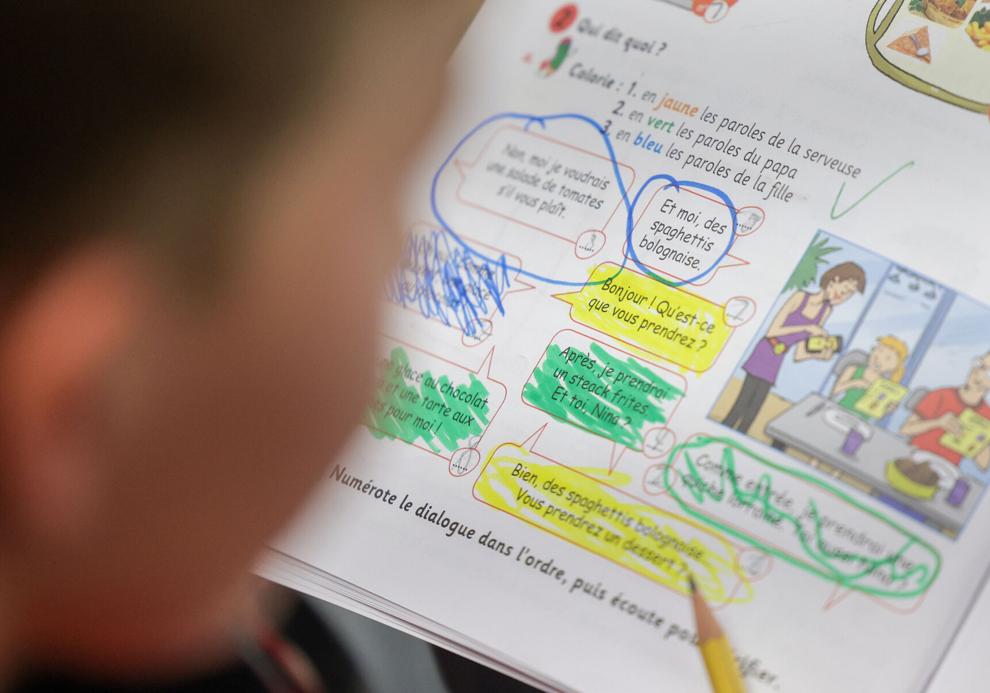 The support of France's government in such programs has been important, said CODOFIL executive director Peggy Feehan. France helps vet would-be teachers and agrees to allow them to spend several years in Louisiana.
About 150 French-speaking teachers from around a dozen countries are currently working in Louisiana, she said. French immersion students statewide number around 5,500, she said.
She says that while the details of the fund Macron will announce are not yet known, his visit will be a win.
"The president coming here to Louisiana because of the links in the French language and the French culture puts the eyes of all the French world on us for one day, and that's huge," said Feehan.
CODOFIL has sought to put equal importance on local French dialects and standard French, including advising foreign teachers not to tell students that they're wrong when they use words from their own heritage. To that end, CODOFIL has developed flashcards with words in Louisiana French, Louisiana Creole and international French.
Ancelet marvels at how much the various language efforts have been embraced and grown over the years. He thinks back to 1974, when he co-founded what became the now-popular Festivals Acadiens et Creoles in Lafayette, which started as an evening concert.
"One of the reasons we did that was to try to encourage people from here to reconsider the value of our musical tradition," he said. "Well, I daresay it worked."