Twitter users aren't letting Texas Senator Ted Cruz off easy ahead of a potentially snowy Thanksgiving forecasted for the Texas panhandle.
Cruz was criticized last year after taking a family trip to Cancun, Mexico, during a February storm that left millions of Texans without power or access to food and water, killing hundreds. Cruz returned to Texas and later described the vacation as a "mistake."
Now, some of Cruz's constituents are deeming him a flight risk for the incoming storm predicted to start in the Texas panhandle on Thursday night.
"Major snow storm is going to dump on Texas. Are you packed?" one Twitter user tweeted at Cruz, including tropical emojis like a cocktail, a palm tree and a parrot in the message.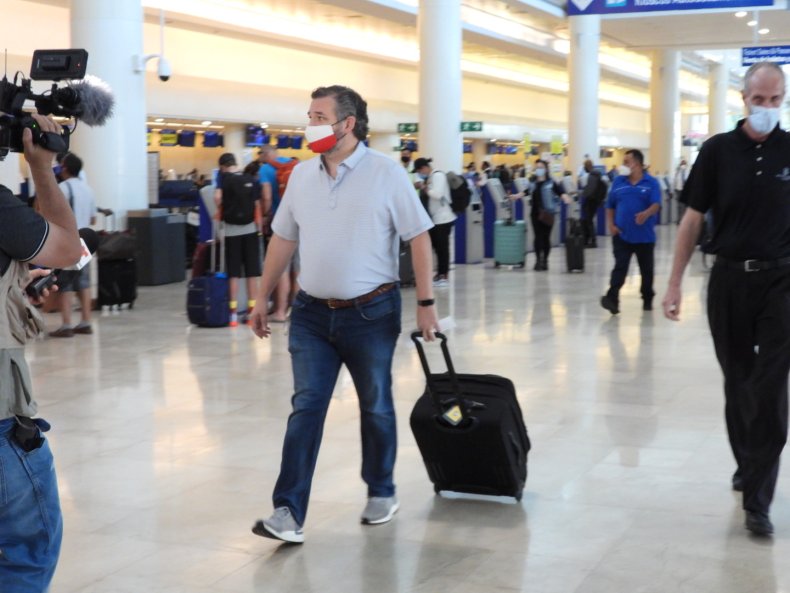 Conflicting forecasts are showing areas like Amarillo, Texas, being subject to as much as 18 to 24 inches of snow, more than the city's average in a winter season. Other forecasts show the number as much lower, in the 5- to 12-inch range.
A southeast-bound storm is set to hit Texas, where the panhandle temperatures are lower than normal this weekend, causing rain to turn into heavy, wet snow that could damage power lines, roofs and cause slippery conditions on roads and runways.
Meteorologists are encouraging area residents to postpone any Thanksgiving travel until after Saturday morning, when temperatures are expected to rise again and the snow melts or is cleared.
As of Wednesday afternoon, Cruz hadn't tweeted anything about the incoming storm on his personal or professional Twitter accounts.
One AccuWeather meteorologist recently told Newsweek that storm is going to be very localized and "nothing like" the massive storm in 2021. That didn't stop Twitter users from teasing Cruz about his travel history.
"Anyone know where Ted Cruz is heading?" one person tweeted.
"Have you booked your flight to Mexico yet???" another asked the senator.
Cruz faced backlash from Twitter users even before the snow predictions were made for the Thanksgiving storm. After a lake-effect storm buried Buffalo, New York, in 7 feet of snow last week, some users asked Cruz and Texas Governor Greg Abbott what their plans were if a massive winter storm hit Texas again.
"Does Texas have any contingency plans in case what happened last winter happens again?" a Twitter user posted. "You gonna leave people to die again? In your case, Ted, off to Mexico again?"
Abbott hasn't yet tweeted about the approaching storm on either of his Twitter pages, either.
Newsweek reached out to Cruz's office for comment.