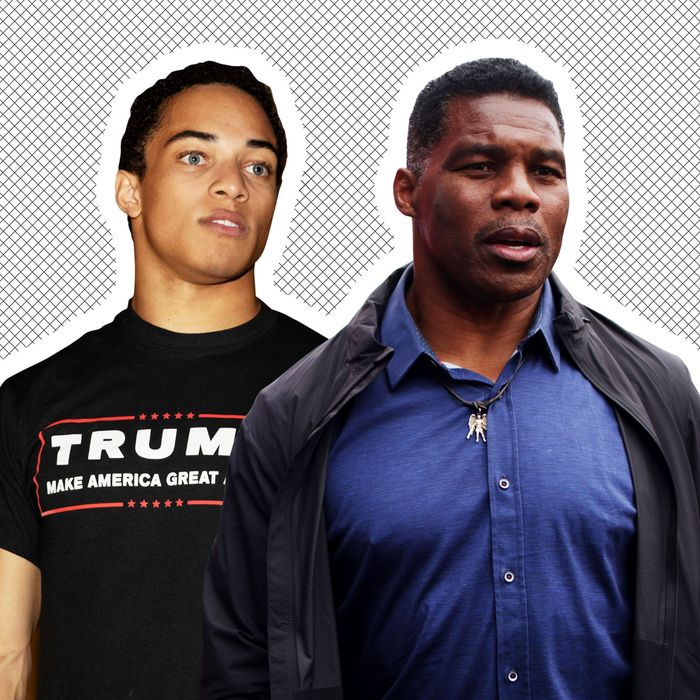 Christian Walker and Herschel Walker.
Photo: The Cut. Photos: Getty Images
Raphael Warnock won Georgia's Senate runoff last night, confirming his reelection and ending an exceedingly messy campaign by his opponent, former NFL player Herschel Walker. The latter's bid for Congress began to founder in October, when reports emerged that Walker — who has claimed to be as anti-abortion as it is possible to be — not only encouraged an ex-girlfriend to terminate a pregnancy during their relationship but paid for the procedure. The woman's account set off a series of revelations about the politician's apparent hypocrisy, maybe most notably from his own son, the right-wing influencer Christian Walker, who accused his father of adultery, domestic abuse, and of using him to prop up a façade of "family values."
As the runoff's results crystallized Tuesday night, Christian fired off a series of tweets suggesting he was glad his father lost and disgusted with pretty much everything else about the race. "I was called a backstabber after getting angry and blowing up from watching my dad lie for 18 months straight," he said in the first of many tweets. "But he's not a backstabber for leaving his 2 minor children he kept secret to grow up without a dad as he chases more fame and power? Pathetic. Raise your kids."
Christian — who has over 280,000 followers on Twitter, more than 220,000 on TikTok, and about half a million on Instagram — went on to claim that Trump called his dad and personally demanded he run. He reiterated his previous statement that everyone in the elder Walker's orbit ("everyone with a brain") pleaded with the would-be politician not to enter the race because they knew his "dirty" past would come out. "We got the middle finger. He ran," Christian said. "Republicans, we say we don't play 'identity politics' and then you ran this man mainly because he was the same skin color as his opponent with no background other than football. A boring old Republican could have won."
To recap the downfall of Walker's campaign: The Daily Beast first reported on the ex-girlfriend's abortion, which she says took place in 2009. Both parties, she told the outlet, felt it was "not the right time" to have a kid; Walker, the woman added, urged her to end the pregnancy. As proof of her story, she provided documents from the clinic, a signed check from Walker, her deposit statement, and a signed get-well card she says he sent her after the abortion. Walker, of course, denied it all as a "flat-out lie" and said he didn't even know who the woman was, prompting her to tell the Daily Beast that the two eventually wound up having a son together and to submit texts with Walker's wife. Meanwhile, Christian came out with his own disavowals of his dad, tweeting that Walker left him and his mom to "bang a bunch of women" before making death threats that — to quote Christian — forced "us move over 6 times in 6 months running from your violence." Walker had already been accused of negligent parenting, having fathered three children other than Christian whom he never saw.
The allegations of domestic abuse weren't new. Christian's mother, Cindy Grossman, told ABC News in 2008 that Walker once held a gun to her head and threatened to "blow your f'ing brains out." (Their divorce records speak to frequent and allegedly life-threatening behavior by Walker.) In response, he claimed a dissociative identity disorder that induced rage blackouts, but the hits kept on coming — from Christian, who accused his father of using him on the campaign trail, and from a second woman, who said Walker pressured her into an unwanted abortion in the 1990s. She produced a voice-mail message and love letters bearing a signature that resembles the one on the get-well card. Walker continued to spin, but she stood by her story and raised the stakes. "Do you have the guts to meet with me in person in public, look me in the eye, and tell me to my face that you don't know me and that none of what I said is true?" she challenged Walker in a press conference.
Flash forward to the December runoff: Warnock led with a 2.5 percent margin on Walker when the Associated Press called the race, adding to the Democratic majority in the Senate. Walker conceded, encouraging his supporters to "never stop dreaming." And Christian hopped on Twitter Spaces, excoriating not only his father but also Trump, Senator Lindsey Graham — who continued to campaign with Walker after everything came out — and the Republican Establishment, according to the New York Times.
"Don't beat women, hold guns to peoples heads, fund abortions then pretend your pro-life, stalk cheerleaders, leave your multiple minor children alone to chase more fame, lie, lie, lie, say stupid crap, and make a fool of your family," he wrote on Twitter. "And then maybe you can win a senate seat." Christian also posted in support of his mom. "Shoutout to every strong mother whose story goes untold. We love you," he said. "She wanted no part of this," he added. "I'm so happy she can rest now, and this bull crap is over with." I don't agree with Christian's politics, but with respect to the above, I think he has a point.