Herschel Walker has been trolled by a Raphael Warnock campaign advertisement that shows the Senate hopeful's speeches.
The contest between Democrat Senator Warnock and his Republican rival Walker has gone down to the wire with a crucial runoff vote next month.
In a Warnock campaign video shared on Sunday, several people could be seen reacting to Walker's speeches, with many voicing their disbelief over what they had seen.
During the video, Walker could be seen talking about vampire movies as well as his infamous speech about China's bad air.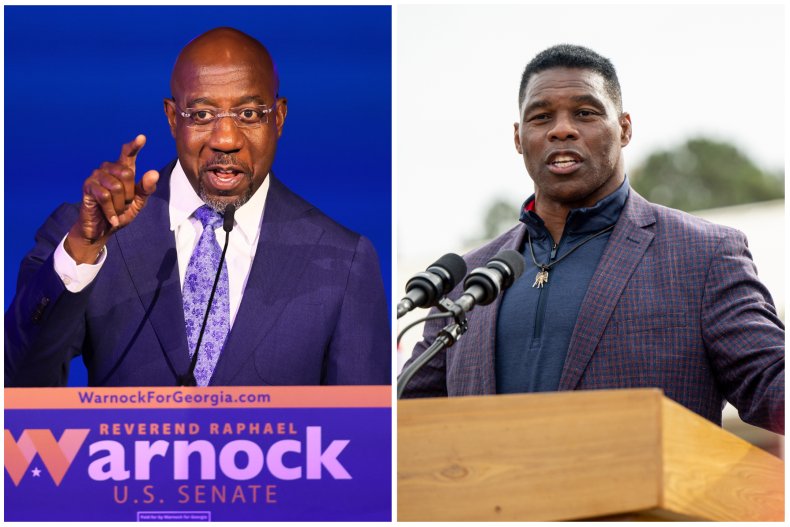 Walker's remarks about climate change raised eyebrows on the campaign trail when he said the U.S.'s "good air" would "float over to China's bad air."
"Not only does it make no sense, I don't even understand what he thinks he's saying," one woman in the video says.
One man said: "I sit watching these on Twitter and I'm like 'what the heck is this guy talking about.'"
A third woman commented: "He's (Walker) completely unqualified for this really, really serious job."
Since being shared on November 27, the post has attracted 749,400 views and more than 20,600 likes.
Walker's speeches and comments have been widely mocked, including by the cast of Saturday Night Live.
Kenan Thompson, as Walker, spoofed the Republican's bizarre speeches during a segment last month.
Tackling the China gaffe head-on, Thompson as Walker said: "We all know air, right? Air Bud, Air Jordan, Erin Brockovich. You see, scientists don't understand.
"Everybody talking about climate, but what we really should be focusing on is pulling Hawaii closer. Bring that climate over here."
Neither Warnock nor Walker managed to win a majority of the vote during the Midterm elections earlier this month.
As both candidates failed to secure 50 percent of the vote, under Georgia law a second-round runoff will take place.
A recent poll by AARP showed Warnock holding a four-point lead over Walker ahead of the December 6 election.
According to CNBC, Warnock's campaign had secured more than $29 million as of November 16. In comparison, Walker had $9.8 million by that date.
Warnock previously narrowly won his Senate seat in 2021, during a special election that was sparked by the resignation of Republican Johnny Isakson.
Warnock's previous win in Georgia secured Democratic control of the Senate with a 50-50 split. Any ties in the Senate can be broken by the Vice President, in this case Democrat Kamala Harris.
Should Warnock win the Senate race next month, the Democrats would secure a majority and mean President Joe Biden would not need to worry about the party's more conservative members, such as Joe Manchin.
Newsweek has contacted Warnock and Walker's campaigns for comment.