President Joe Biden's approval ratings rocketed over the summer, reversing Democrats' disastrous prospects for the midterm elections and giving his administration renewed hope it would continue to be able to advance its agenda through the remainder of his four-year term.
History, however, is not so optimistic.
Though Democrats now lead Republicans in national preference polling, Biden's approval ratings have so far failed to fully recover from the depths to which they'd plunged in mid-July, while more than half the national electorate continues to disapprove of his job performance.
His approval ratings also closely track the pre-midterm election performance of his Republican predecessor, Donald Trump, entering an election year in which his party lost 41 seats in the House of Representatives and ceded control of the chamber to Democrats.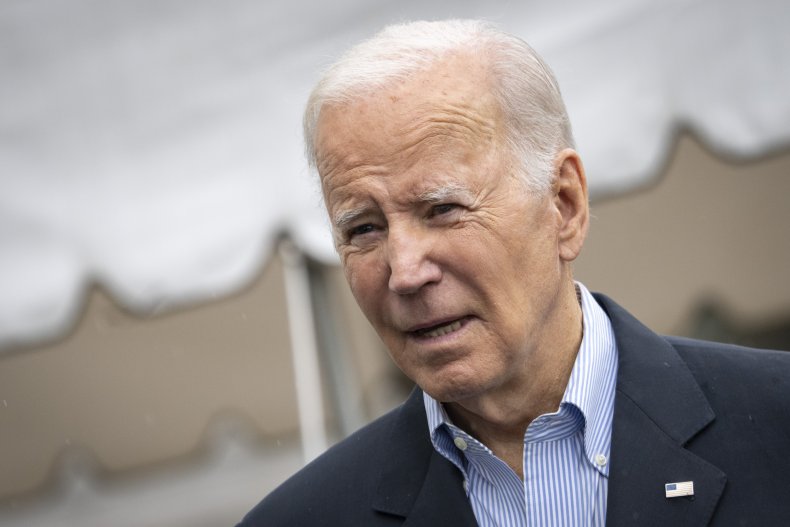 Entering the disastrous 1994 midterm election in which Democrats lost 52 House seats, President Bill Clinton carried a similar level of baggage in the middle of his first term, with disapproval ratings closely matching those exhibited by Biden and Trump. The trend can also be seen in numerous elections dating back to the country's founding, creating a rule that has regularly defined midterm elections for generations.
"The president's party almost always loses a lot of seats in the midterms," David Barker, director of the Center for Congressional and Presidential Studies at American University, told Newsweek. "New presidents are almost always under water two years into their terms, both because of what they have done (which the other side mobilizes against) and what they haven't been able to do (inevitably, the president's supporters are disappointed because reality never matches campaign rhetoric). Thus, the anger of the president's opponents combined with the disillusionment of the president's supporters leads to a big turnout differential between the parties—which favors the outparty."
But an approval rating can be a deceptive measure of a party's likely performance. Before a 2010 midterm election in which Democrats lost 63 seats in the House—the party's worst backslide since the Great Depression—then-President Barack Obama's approval rating one month before the election was just 2 points less than his disapproval rating, according to Gallup polling at the time.
The real deciding factor in any election, as Democratic strategist James Carville famously concocted in Clinton's successful 1992 campaign against Republican George H.W. Bush, is a simple one: It's "the economy, stupid."
The two exceptions to the rule of the president's party losing seats in midterms in the past 70 years—in 1998 and 2002—came with presidents who were quite popular, largely due either to a roaring economy or a number of high-profile events (GOP overreach around the Monica Lewinsky affair, the 9/11 terrorist attacks) that resulted in increased support for the president's party.
Ray Fair, a Yale University economist who has successfully projected a given party's vote share based off economic indicators within several points in nearly every federal election since 1978, told Newsweek in an interview that there are other factors in an election that could affect the outcome of a race—issues like abortion, for example.
But the biggest factor, he said, is the performance of the economy, and whether the public sees the president's policies as responsible for it.
While polling shows Democrats leading Republicans by several points in the national generic ballot, Fair projects Democrats to secure just under 47 percent of the vote nationally, largely due to several consecutive quarters of slower-than-anticipated economic growth and persistent levels of inflation.
But his projections have been slightly off before, Fair noted, meaning Democrats could potentially have a chance to offset some of the losses they were widely anticipated to have. Entering the 2018 midterm elections, Fair projected Democrats to secure just under 51 percent of the vote nationally, only for them to perform 3 points higher on Election Day.
Other external factors, he said, could help drive Democrats' performance higher than current economic predictions anticipate, potentially making races even more competitive, particularly as once-salient issues like inflation and high gas prices have begun to subside somewhat.
Though Democrats are not favored to hold control of the House by a long shot, some projections by election handicappers show the party has a marginal chance to maintain its majority, while some Democrats have remained competitive in a number of battleground districts. Meanwhile, polling shows the fight over control of the Senate to be in a relative stalemate, a projection that, if it holds, would buck historical trends for the party in power.
"The kind of things that you think about that are special to this election, in terms of [the economic] context, just means the margin of error is going to be in favor of the Democrats," Fair said.
Barker noted that while conservatives dislike Biden, much of his disapproval is derived from young Democrats who think he's out of touch with the sensibilities of their generation but would still vote for him again if he were at the top of the ticket against the alternative. Though Reuters polling shows Biden's favorability ratings 6 points lower among younger voters than voters over 40, most polls show that demographic has a clear preference for Democrats maintaining control of the House.
Trump's disapproval rating, meanwhile, was highly partisan, with a higher proportion of Republicans supporting Trump than Democrats currently supporting Biden.
Alongside Trump's persistence as the de facto leader of the GOP, Barker suggested there may not be the same motivation on the part of Republicans to turn out and express their disapproval as there was among Democrats in previous races.
"Unlike any other midterm in memory (probably ever), the former president is still very much top of mind," he noted. "The January 6 commission and other things (Mar-a-Lago, etc.) have ensured that. Because he is very much still the leader of the GOP, and everyone just assumes he will again be its standard bearer in 2024, he and Biden are on almost equal footing as prominent figureheads for their opponents to push back against."
"For that reason, I think the turnout differential will not be what it normally is—Dems may well turn out at comparable rates to Republicans—which makes everything sort of a 50-50 proposition," he added.